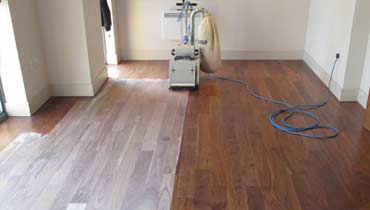 If you are an owner of beautiful real wood flooring, we are sure you are already a big fan and take a lot of care for your installation. However, you know wood needs annual care and additional pampering after a certain dose of everyday use. You can easily tell the difference – the surface slowly gets to get unsmooth and uneven, the colour starts to changes and depending on the type of wood species and the finish, fades or gets darker. You can feel the wood's structure gets thinner and you will notice the squeaky noise. In addition, there are a lot of new scratches, dents and gaps on the surface and they can ruin the whole appearance of your owning. Don't worry, because we just described the worst scenario and if you don't want to end up with flooring in really that bad condition, make sure to hire professionals in restoration services to help you. If you are already on a hunt for some reliable company, your best choice is Floor Sanding Hampstead!
After we already listed the most common changes your hardwood floor will experience if not well maintained and totally neglected, it is time to reveal how floor sanding can help you and prevent your installation from future issues and major problems. Well, it is not a secret sanding has the potential to improve not only visually, but also the whole condition of the construction, adding extra durability, sturdiness and longevity. Please, be sure that even if you already completely lost hope for your project, instead of purchasing new materials and initiate the fitting process all over again, rather contact us first! You can get the advantage of our special offers and request completely free prior site visit and inspection and our experts will suggest a solution to your problem. However, if your floor doesn't look that bad at all, you will have the chance to get expert advice for free.
Did you know sanding is good not only for older installation but also for newly fitted ones? Apart from the fact some fitting companies in Hampstead provide really poor performance, sanding will help the timber to adhere better, make the surface completely even in case the subfloor can't be for some reason and will open the pores of the wood for the finishing product of your choice to soak better. Sanding is also recommended before wood staining and here is why. Because of the nature of the staining process, the application of dye and colour pigments will only highlight every imperfection, so the best way to prepare the wood's surface for staining is by hiring floor sanding technicians. We already cleared out why sanding is good for older and worn floors, but in addition – the best feature of hardwood is it can be sanded more than once in its lifetime, which gives you beneficial flexibility.
If you wonder why to choose exactly our floor men for your project, the answer is pretty simple! We are experienced, knowledgeable, we have an individual approach to every client and the skills, talents and respect to meet everyone's requirements. Finally, we work with the best equipment on the market and can promise you will leave your house or office when it is completely clean and tidy. Be sure to contact us if you want to request additional information!