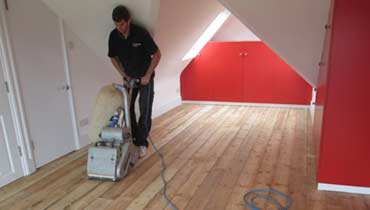 The story of our company begins as the story of most of the firms. Floor Sanding Hampstead started as a little enthusiastic initiative, shared by a small and united team. Having the inner talent and passion for providing the best flooring services in Hampstead lead us to this stage, where nowadays we are one of the leading names on the market. How we managed to grow and improve so much for the last decades and stable to stay on the stage of the dynamic and sometimes even hectic flooring world? It is because of the way we perform our wood floor sanding services, providing professionalism, skills, competence and individual approach to a very case we meet during our long journey. While covering the whole Hampstead area we make sure to meet expectations and requirements of any kind, ensuring sanding is a positive experience, although it is considered time-consuming, expensive and messy. We don't just create chimeric expectations we can't actually meet and you take our words as a guarantee for what we can provide you with.
Incorporating the spirit of innovation, knowledge and individualism has helped us to create that company, which not succumb to the provocations of time and temporary trends, but strictly following our core values and proven methods. Of course, you may think now we are conservative and looking in only one direction we find the only right, but this isn't the case right here. In fact, having the sturdy base of the accumulated knowledge and experience allows us to have the confidence of professionals, however having an interest in the constantly changing flooring trends, being creative and forward allows us to take what we have learned is best for any type of wood flooring and transform it according to the current needs and desires of our well-informed clients.
Do you know why we believe Hampstead clients is the best client possible? Because we find in our clients the same enthusiasm, the same motivation to achieve the best we have ourselves! Meeting unique ideas and inspiration when working for our clients is what stimulates us to improve and be creative. Some people believe professionalism and creativity are incompatible concepts since the free spirit of creativity can't work with the foundations of professionalism. We think they are the perfect combination and are ready to prove to you that!
Have a look at the wood floor sanding and restoration services we offer to our clients and be sure that if you have a unique vision, requirement or idea, you can always discuss it with us and together we will find the perfect solution!